Spray cleaning methods are used for components with little complexity/simple geometry and an average requirement related to cleanliness.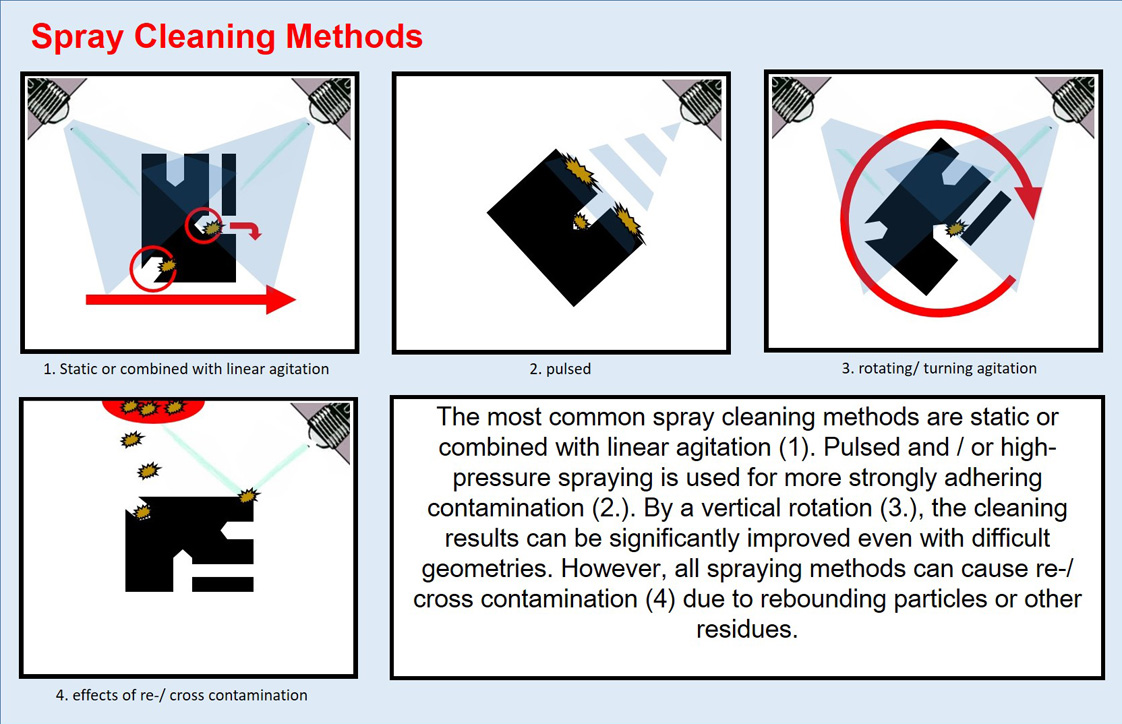 Most frequently, single- or multi-stage flow systems (LPW PowerLine) are designed, which feed the goods concurrently or cyclically via a suitable conveyor system. In order to improve the cleaning performance, jet systems, which are matched to the component geometry in design, pressure and flow output are used.
However, spray methods are also to be found in closed chamber systems for basket and pallet goods (LPW AquaJet). A clear advantage compared with cyclic systems is the potential relative motion (swivelling or rotating) dictated by the type of structure. This helps the cleaning significantly and also allows cleaning, flushing and efficient drying of dipping parts.
Advantages and disadvantages of spray cleaning
For
Low investment through process-dictated smaller tank volumes, with chamber technology lower electrical connection values
Very well suited to removing lightly bonding, even organic contamination, provided that the component geometry and the configuration of the jets allow complete contact by the component surface with the cleaning medium
Shorter process times, as typical incidental times caused by filling and emptying processes are absent for flood methods
When using cyclic systems, high to very high output quantities, if need be even without loading
Higher kinetic effect on the component surface, increased if need be by pulsing spray methods
Against
Unsuitable for complex component geometries
Limited mechanical washing options (injection flood washing, ultrasound, CNp not possible)
Risk of recontamination (ricochet effects/cross-contamination), even with cyclic systems and in this case with particulate cleaning
The basic features of spray cleaning lead usually to the feasibility of achieving clearly defined particulate purity requirements in a safe process up to a lower limit of 500 to 600 µm. Higher purity requirements dictate the following aspects:

Suitable component geometry
Selection of a suitable system matched to the contamination and geometry (type, flow, kinetic capability) in the cleaning, as well as appropriate media contact in the flushing process by the entire area
Avoidance of recontamination by means of high flows and a guarantee that the treatment areas/chambers are cleaned out continuously
Adequately dimensioned area separations (with cyclic systems) between the different treatment steps